Shielding of ionizing radiation simply means having some material between the source of radiation and you (or some device) that will absorb the radiation. Radiation Dosimetry
Radiation protection is the science and practice of protecting people and the environment from the harmful effects of ionizing radiation. It is a serious topic not only in
nuclear power plants
, but also in industry or in medical centres. In radiation protection there are three ways how to protect people from identified radiation sources:
Limiting Time. The amount of radiation exposure depends directly (linearly) on the time people spend near the source of radiation. The dose can be reduced by limiting exposure time.
Distance. The amount of radiation exposure depends on the distance from the source of radiation. Similarly to a heat from a fire, if you are too close, the intensity of heat radiation is high and you can get burned. If you are at the right distance, you can withstand there without any problems and moreover it is comfortable. If you are too far from heat source, the insufficiency of heat can also hurt you. This analogy, in a certain sense, can be applied to radiation also from radiation sources.
Shielding. Finally, if the source is too intensive and time or distance do not provide sufficient radiation protection, the shielding must be used. Radiation shielding usually consist of barriers of lead, concrete or water. There are many many materials, which can be used for radiation shielding, but there are many many situations in radiation protection. It highly depends on the type of radiation to be shielded, its energy and many other parametres. For example, even depleted uranium can be used as a good protection from gamma radiation, but on the other hand uranium is absolutely inappropriate shielding of neutron radiation.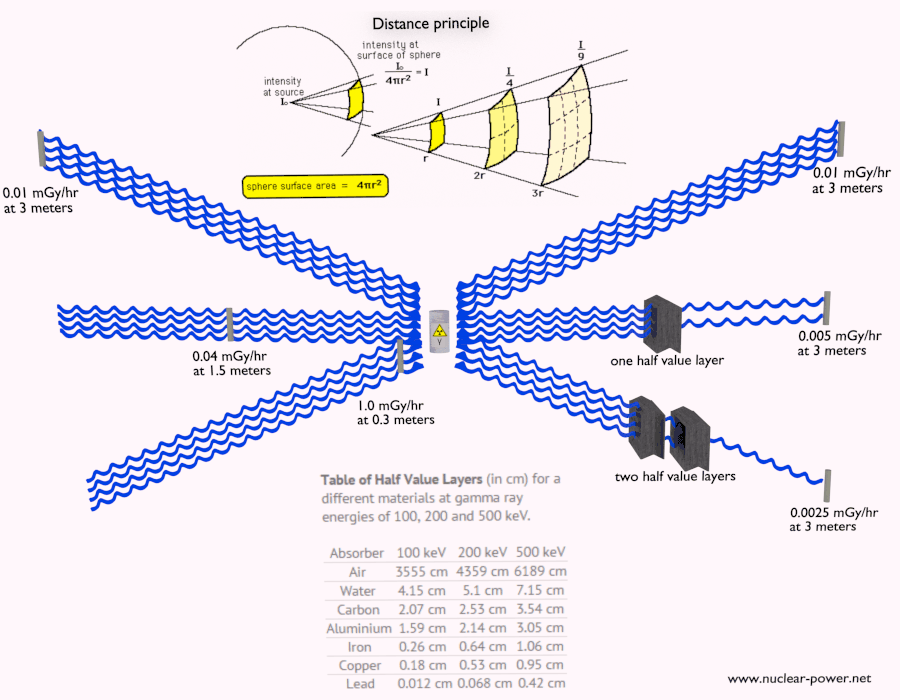 Radiation shielding simply means having
some material between the source of radiation and you
(or some device) that will
absorb the radiation
. The amount of shielding required, the type or material of shielding strongly depends on several factors. We are not talking about any optimisation.
In fact in some cases an inappropriate shielding may even worsen the radiation situation instead of protecting people from the ionizing radiation.  Basic factors, which have to be considered during proposal of radiation shielding, are:
Type of the ionizing radiation to be shielded
Energy spectrum of the ionizing radiation
Length of exposure
Distance from the source of the ionizing radiation
Requirements on the attenuation of the ionizing radiation – ALARA or ALARP principles
Design degree of freedom
Other physical requirements (e.g. transparence in case of leaded glass screens)
See also: Interaction of Radiation with Matter
See also: Rad Pro Calculator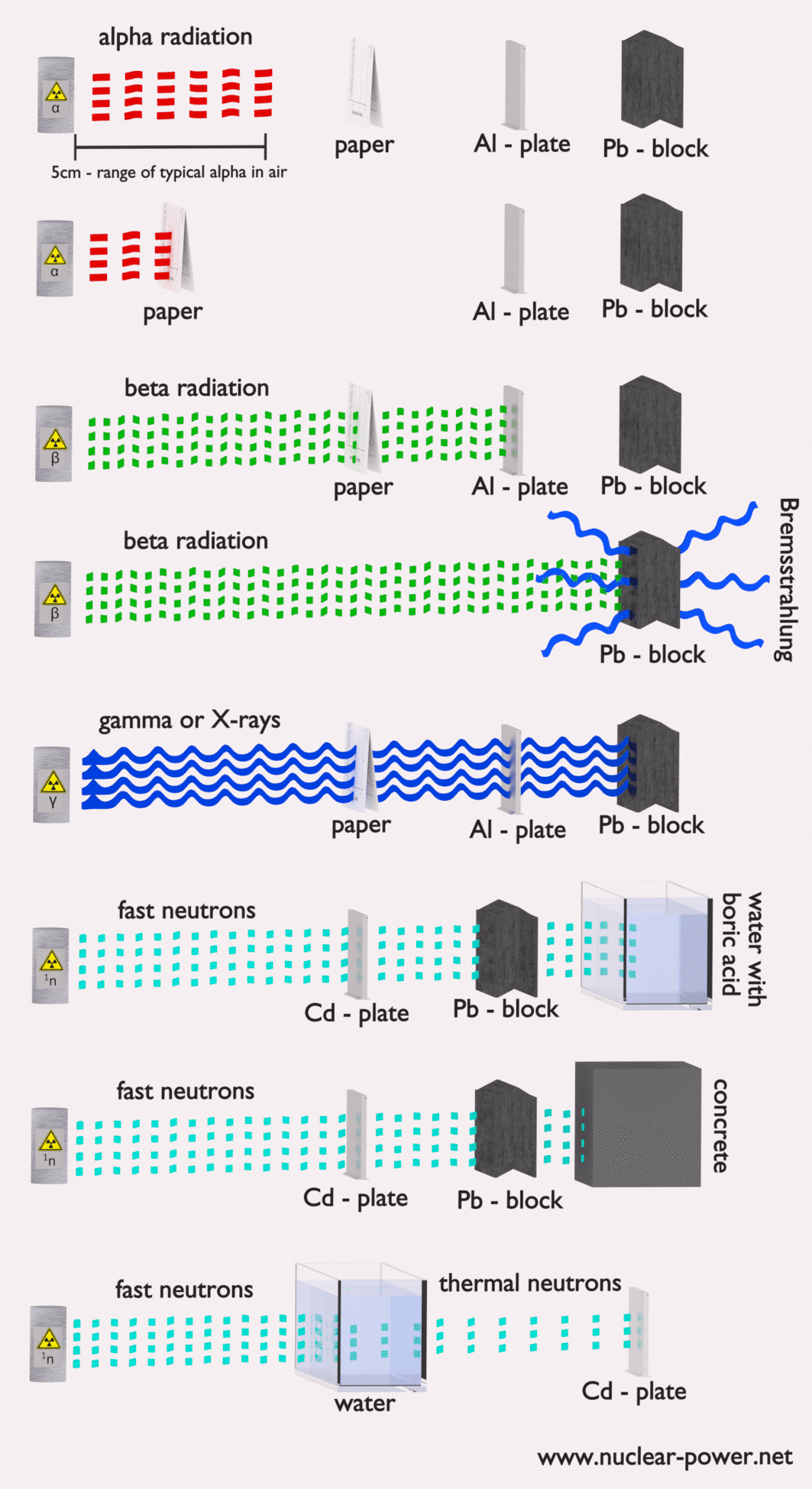 Shielding of Radiation in Nuclear Power Plants
Generally in nuclear industry the radiation shielding has many purposes. In nuclear power plants the main purpose is to reduce the radiation exposure to persons and staff in the vicinity of radiation sources. In NPPs the main source of radiation is conclusively the nuclear reactor and its reactor core. Nuclear reactors are in generall powerful sources of entire spectrum of types of ionizing radiation. Shielding used for this purpose is called biological shielding.
But this is not the only purpose of radiation shielding. Shields are also used in some reactors to reduce the intensity of gamma rays or neutrons incident on the reactor vessel. This radiation shielding protects the reactor vessel and its internals (e.g. the core support barrel) from the excessive heating due to gamma ray absorption fast neutron moderation. Such shields are usually referred to as thermal shields.
See also: Neutron Reflector
A little strange radiation shielding is usually used to protect material of reactor pressure vessel (especially in PWR power plants). Structural materials of pressure vessel and reactor internals are damaged especially by fast neutrons. Fast neutrons create structural defects, which in result lead to embrittlement of material of pressure vessel. In order to minimize the neutron flux at the vessel wall, also core loading strategy can be modified. In "out-in" fuel loading strategy fresh fuel assemblies are placed at the periphery of the core.  This configuration causes high neutron fluence at the vessel wall. Therefore the "in-out" fuel loading strategy (with low leakage loading patterns – L3P) has been adopted at many nuclear power plants. In contrast to "out-in" strategy, low leakage cores have fresh fuel assemblies in the second row, not at the periphery of the core. The periphery contains fuel with higher fuel burnup and lower relative power and serves as the very sophisticated radiation shield.
In nuclear power plants the central problem is to shield against gamma rays and neutrons, because the ranges of charged particles (such as beta particles and alpha particles) in matter are very short. On the other hand we must deal with shielding of all types of radiation, because each nuclear reactor is a significant source of all types of ionizing radiation.
Calculation of Shielded Dose Rate in Sieverts from Contaminated Surface
Assume a surface, which is contamined by 1.0 Ci of 137Cs. Assume that this contaminant can be aproximated by the point isotropic source which contains 1.0 Ci of 137Cs, which has a half-life of 30.2 years. Note that the relationship between half-life and the amount of a radionuclide required to give an activity of one curie is shown below. This amount of material can be calculated using λ, which is the decay constant of certain nuclide:
About 94.6 percent decays by beta emission to a metastable nuclear isomer of barium: barium-137m. The main photon peak of Ba-137m is 662 keV. For this calculation, assume that all decays go through this channel.
Calculate the primary photon dose rate, in sieverts per hour (Sv.h-1), at the outer surface of a 5 cm thick lead shield. Then calculate the equivalent and effective dose rates for two cases.
Assume that this external radiation field penetrates uniformly through the whole body. That means: Calculate the effective whole-body dose rate.
Assume that this external radiation field penetrates only lungs and the other organs are completely shielded. That means: Calculate the effective dose rate.
Note that, primary photon dose rate neglects all secondary particles. Assume that the effective distance of the source from the dose point is 10 cm. We shall also assume that the dose point is soft tissue and it can reasonably be simulated by water and we use the mass energy absorption coefficient for water.
See also: Gamma Ray Attenuation
See also: Shielding of Gamma Rays
Solution:
The primary photon dose rate is attenuated exponentially, and the dose rate from primary photons, taking account of the shield, is given by: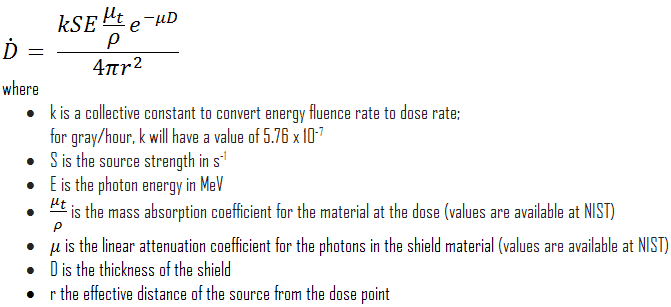 As can be seen, we do not account for the buildup of secondary radiation. If secondary particles are produced or if the primary radiation changes its energy or direction, then the effective attenuation will be much less.  This assumption generally underestimates the true dose rate, especially for thick shields and when the dose point is close to the shield surface, but this assumption simplifies all calculations. For this case the true dose rate (with the buildup of secondary radiation) will be more than two times higher.
To calculate the absorbed dose rate, we have to use in the formula:
k = 5.76 x 10-7
S = 3.7 x 1010 s-1
E = 0.662 MeV
μt/ρ =  0.0326 cm2/g (values are available at NIST)
μ =  1.289 cm-1 (values are available at NIST)
D = 5 cm
r = 10 cm
Result:
The resulting absorbed dose rate in grays per hour is then:

1) Uniform irradiation
Since the radiation weighting factor for gamma rays is equal to one and we have assumed the uniform radiation field (the tissue weighting factor is also equal to unity), we can directly calculate the equivalent dose rate and the effective dose rate (E = HT) from the absorbed dose rate as:

2) Partial irradiation
In this case we assume a partial irradiation of lungs only. Thus, we have to use the tissue weighting factor, which is equal to wT = 0.12. The radiation weighting factor for gamma rays is equal to one. As a result, we can calculate the effective dose rate as:

Note that, if one part of the body (e.g.,the lungs) receives a radiation dose, it represents a risk for a particularly damaging effect (e.g., lung cancer). If the same dose is given to another organ it represents a different risk factor.
If we want to account for the buildup of secondary radiation, then we have to include the buildup factor. The extended formula for the dose rate is then:

Buildup Factors for Gamma Rays Shielding
The buildup factor is a correction factor that considers the influence of the scattered radiation plus any secondary particles in the medium during shielding calculations. If we want to account for the buildup of secondary radiation, then we have to include the buildup factor. The buildup factor is then a multiplicative factor which accounts for the response to the uncollided photons so as to include the contribution of the scattered photons. Thus, the buildup factor can be obtained as a ratio of the total dose to the response for uncollided dose.
The extended formula for the dose rate calculation is: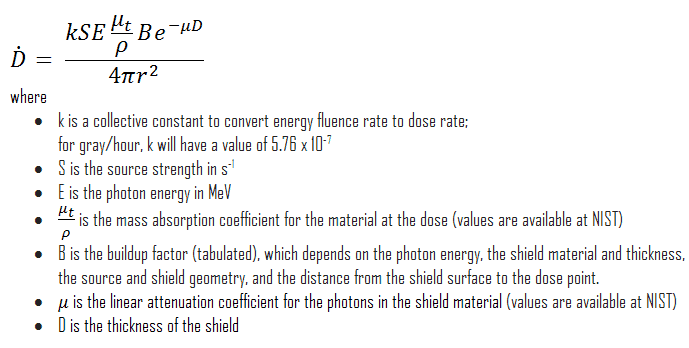 The ANSI/ANS-6.4.3-1991 Gamma-Ray Attenuation Coefficients and Buildup Factors for Engineering Materials Standard, contains derived gamma-ray attenuation coefficients and buildup factors for selected engineering materials and elements for use in shielding calculations (ANSI/ANS-6.1.1, 1991).
We hope, this article, Shielding of Ionizing Radiation, helps you. If so, give us a like in the sidebar. Main purpose of this website is to help the public to learn some interesting and important information about radiation and dosimeters.