Electron–positron annihilation occurs when a negatively charged electron and a positively charged positron collide.When a low-energy electron annihilates a low-energy positron. Radiation Dosimetry
Positron Annihilation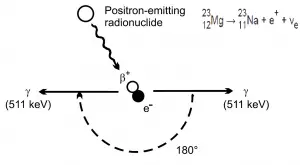 Electron–positron annihilation occurs when a negatively charged electron and a positively charged positron collide.When a low-energy electron annihilates a low-energy positron (antiparticle of electron), they can only produce two or more photons (gamma rays). The production of only one photon is forbidden because of conservation of linear momentum and total energy. The production of another particle is also forbidden because of both particles (electron-positron) together do not carry enough mass-energy to produce heavier particles. When an electron and a positron collide, they annihilate resulting in the complete conversion of their rest mass to pure energy (according to the E=mc2 formula) in the form of two oppositely directed 0.511 MeV gamma rays (photons).
e− + e+ → γ + γ (2x 0.511 MeV)
This process must satisfy a number of conservation laws, including:
Conservation of electric charge. The net charge before and after is zero.
Conservation of linear momentum and total energy. T
Conservation of angular momentum.
We hope, this article, Positron Annihilation, helps you. If so, give us a like in the sidebar. Main purpose of this website is to help the public to learn some interesting and important information about radiation and dosimeters.