The energy of these particles range between 10^8 eV and 10^20 eV. The energies of the most energetic ultra-high-energy cosmic rays (UHECRs) have been observed to approach 3 x 10^20 eV
Cosmic Radiation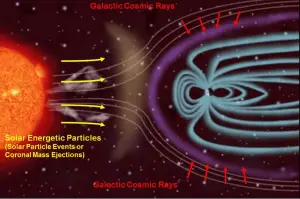 Cosmic radiation refers to sources of radiation in the form of cosmic rays that come from the Sun or from outer space. The earth has always been bombarded by high-energy particles originating in outer space that generate secondary particle showers in the lower atmosphere. Charged particles (especially high-energy protons) from the sun and outer space interact with the earth's atmosphere and magnetic field to produce a shower of radiation (i.e. air shower), typically beta and gamma radiation.
Energy of Cosmic Rays
The primary cosmic radiation consist of a mixture of high-energy protons (~87%), alpha particles (~11%), high-energy electrons (~1%) and a trace of heavier nuclei (~1%). The energy of these particles range between 108 eV and 1020 eV.  A very small fraction are stable particles of antimatter, such as positrons or antiprotons. The precise nature of this remaining fraction is an area of active research.
The energies of the most energetic ultra-high-energy cosmic rays (UHECRs) have been observed to approach 3 x 1020 eV, about 40 million times the energy of particles accelerated by the Large Hadron Collider. The origin of the high energy particles is from outer space. It is assumed that particles with an energy up to about 1015 eV are coming from our own galaxy, whereas those with the highest energies probably have an extragalactic origin.
 
We hope, this article, Energy of Cosmic Rays, helps you. If so, give us a like in the sidebar. Main purpose of this website is to help the public to learn some interesting and important information about radiation and dosimeters.